Powder Feeders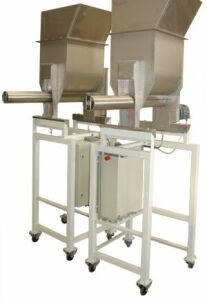 Powder feeders with flexible base
Paddles massage the powder mass inside the powder feeder via a flexible (Polyurethane) base. This movement guarantees a very uniform flow of powder into the dosing screw without the problem of bridging.
Powder feeders have a trapezoid shape, which allows compact positioning of several powder feeders around one powder dosing tube.
Powder feeding by weight
Powder feeders are usually outfitted with digital load cells. These are connected to the main control system which allows very precise dosing of powder by weight. Recipes can control the feeding of powder or this can be controlled manually.
Volumetric powder feeder
Powder feeders without load cells are controlled by rotations of the screw. A calibration program in the main control system can set and memorize calibration factors for each type of powder material. Powder dosing can also be by recipe or manual. Volumetric dosing is less accurate than dosing by weight.